A recently published article called "Data mining for predictive social network analysis" caught our attention at Vijilent. First of all, because it analyzes Brazilian election results (two of our team members are from and currently living in Brazil). Secondly, it's especially close to our hearts because it describes how to use social media to make predictions.
Data Scientists and Twitter
Twitter is a treasure chest for the data scientist on our team. What we, average people, see as a great tool to share news and opinions, data scientist view as an infinite source of information. They see potential for data mining, social network analysis and ultimately, making predictions. In the last 10 years, Twitter rapidly gained global popularity and has become one of the ten most visited websites in the world. It's become a place to go for sensing public opinion trends.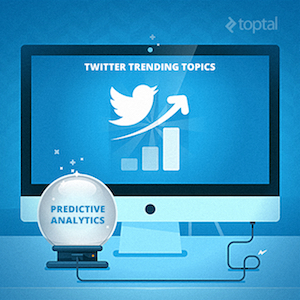 Predicting election results
The analysis in the mentioned article relates specifically to the October 26th 2014 runoff election. Elder Santos, a software engineer that specializes in machine learning and data science, predicted the election results with 60% accuracy. Even if 60% accuracy doesn't seem impressive at first glance, it actually is. The analysis was not very sophisticated, but still, it became a proof-of-concept that demonstrated how effective predictive analysis using Twitter data can be.
"Twitter is of particular interest in this type of scenario. Developers and data scientists can quickly obtain trending topics through an API and study how they distribute geographically. This makes a good general prediction possible and allows us to observe how different people think depending on the region they live in. It's interesting how the existing divisions in Brazilian politics could literally be mapped." – says Marcos, one of the Brazilian team members.
Social media and emotional intelligence
Is this person angry, joyful or sad? Happy, disgusted or fearful? This and more can be inferred from different types of emotions and feelings that people express in their language. It's the called an emotional tone. What we've discovered is, that it's not only the content that is a source of intelligence. Emotional intelligence can give us many valuable insights into individuals too. And social media is a great source of information for these analyses. At Vijilent we intend to take advantage of this richness of data. Lastly, the predictions for the Brazilian elections is just another example of the huge potential of social media data analysis. If leaves me wondering, what else can we predict using social media in the future? And how will emotional intelligence play into it?