A homeowner in Menlo Park unknowingly rented out her home on Airbnb to a sex worker. The guest caused more than $10,000 of damage.
Sharon Marzouk, a Menlo Park homeowner, is accusing Airbnb of not protecting its host members. Why? Because her Airbnb guest used an upstairs bathroom as "a place of business" shooting pornographic photos and videos in the bath.
How did she find out?
The guest flooded the bathroom, letting the bathtub run for at least 30 minutes. Marzouk returned home and entered the room to check for water damage. She was surprised to see evidence indicating the guest was a sex worker: "I saw a handbag of just condoms and I saw a vibrator out and a bag full of just dirty tissues".
In a Facebook blog post, Marzouk wrote to document the incident: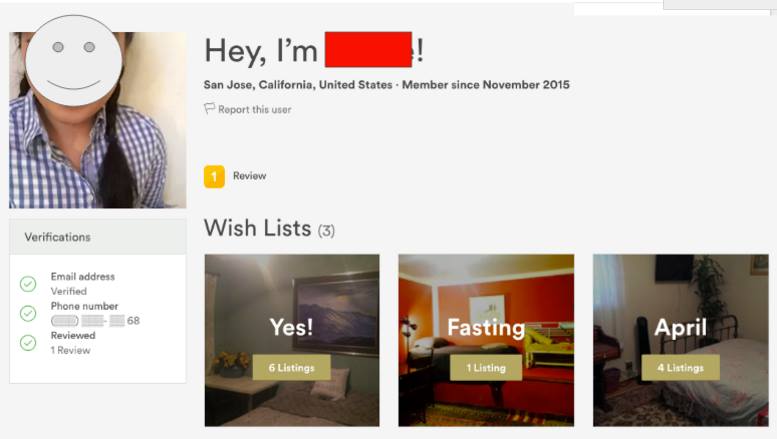 How did Airbnb take action?
When Marzouk contacted Airbnb she was disappointed by customer support and their poor responses to her questions about the guest. "On the day of the emergency I had to call and wait on hold from 10-15 minutes at least 4 times to get through their regular phone system as milestones like sending me a return and follow-up email or phone call were not reached in a timely matter."
Marzouk, as many other hosts, didn't realize that there were no checks done to verify a person. She was deeply disappointed in Airbnb when she later learned her guest was only verified via a confirmed phone number and email address. Something done easily by anyone in a matter of minutes.
"A big part of me sharing my situation is to bring awareness to the lack of verification that Airbnb has as its default settings, and the consequences that can occur. By default in my area one only needs a phone number, email address and payment method. NO ID REQUIRED. Which opens up a great and unneeded additional risks to hosts."
Is there a solution?
Our founder, Rosanna Garcia could tell a similar story about her experiences with an Airbnb guest. Her house sustained $18,000 in damage after a 19-year-old guest organized a birthday party that resulted in holes in the wall, urinating in the mattresses and saturating the carpets with beer…
But with her expertise in predictive analytics Rosanna is able to do something about it! Vijilent was started to give people peace of mind when meeting strangers online. One year later, Vijilent's Data­-Portraits® provide you with demographic and psychographic information about an individual, as well as their personality traits. Data-Portraits® are based on leading edge predictive analytics, data mining, natural language processing (NLP) and sentiment analysis. Try it out: http://bit.ly/demovpage
In conclusion, if you're going to trash somebody's home, make sure they are not a Data Scientist.