Data-Portraits® Webapp by Vijilent
People Insights made easy - Thousands of data points used to paint a portrait of an individual
What is the Data-Portraits® Webapp?
An application to collect and organize summaries of data representing individuals, including their social media presences. Our powerful artificial intelligence tools gather data from thousands of sources and reveals portraits from publicly available data at that time.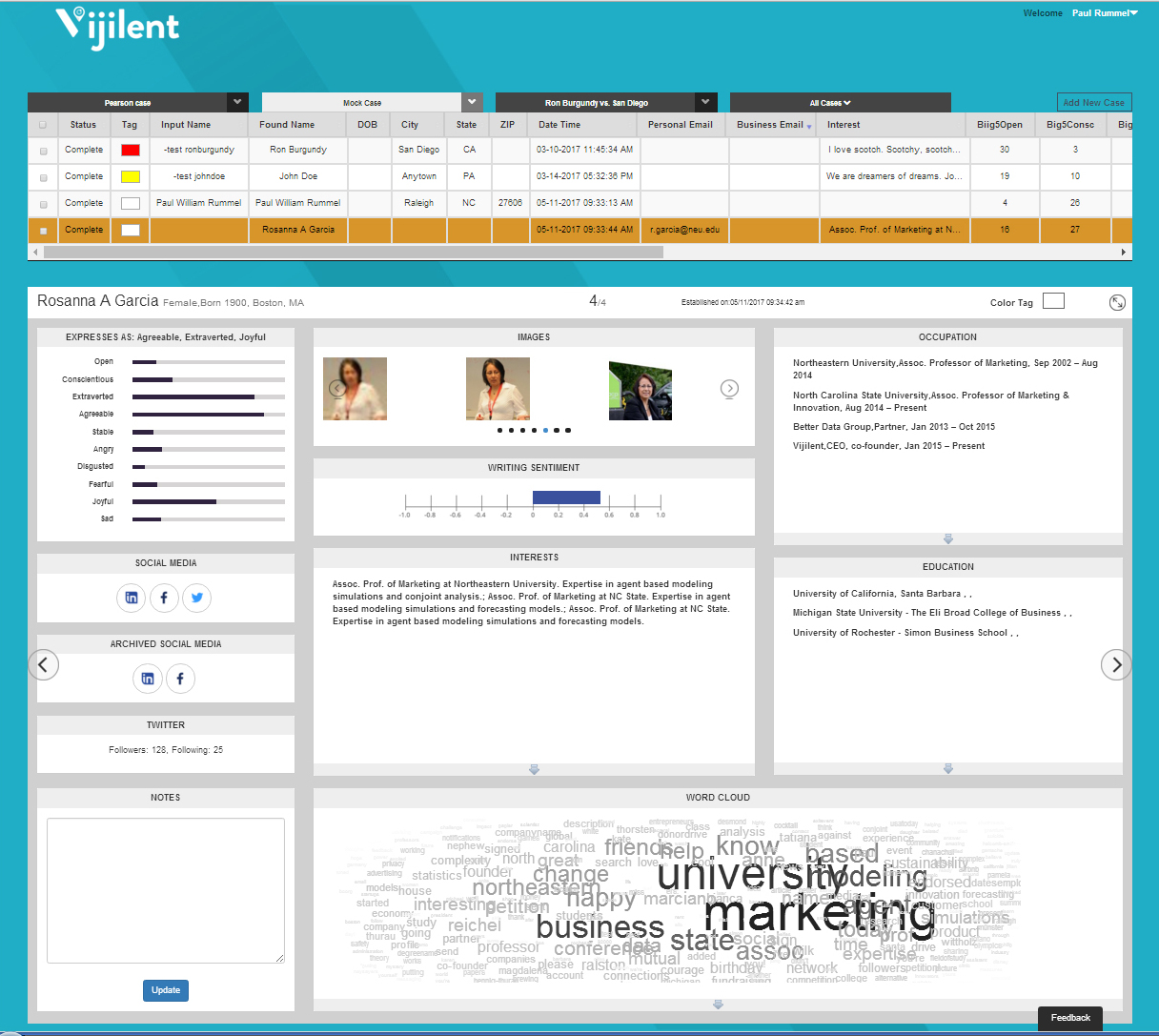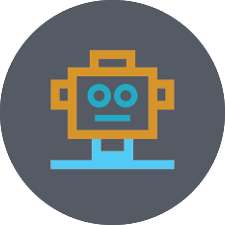 Machine Learning
The Data-Portraits® Webapp's people-profiles include (when available):
Demographics including address, phone, gender, age
Occupation, place of employment and education
Social media links including Facebook, LinkedIn, Twitter and more
Archived social media links
Zipcode psychographics
Sentiment analysis on social media postings – as revealed by IBM Watson
Emotional Intelligence including Big 5 Personality assessment by Watson
Pictures from social media profiles
Interests
Word cloud of words used in social media
What data inputs are needed by the Data-Portraits® Webapp?
At least one email address or first/last name, city, & state – a middle name/initial is really helpful.
First 5 profiles free
Vijilent's Data-Portraits® Webapp is useful for:
Background Checks – add social media insights to public records
Jury Selection – informed voir dire
E-discovery Support – search social media for key words
Immigration Vetting – identify friends, interests and affiliations
Family Law – revelations into family dynamics
Witness Preparation – get insights before court
Finding Lost Friends & Family – reconnect with classmates and relatives
Client Insights – personalize correspondence with clients
Safely meeting new people – whether for business or personal reasons
On-demand Meetings
Customize Marketing to Individual – personalize correspondence
Vijilent's Data-Portraits® Webapp is not meant to be used for employment, housing, insurance, credit applications, or for any other purpose covered under the FCRA.
Ready to get a competitive edge?
Get a competitive advantage by using Vijilent's intelligent people search to find insights fast.
Our team of data scientists are ready to help you.

Request a trial account today or try our free demo.
Opt-out
If you choose to block all sharing of your Vijilent data, please enter your request here.